How School Nutrition Directors Can Prepare for an Almost Normal Return to School
If you're a school nutrition director, you're likely looking for ways to improve your school nutrition program while adjusting to ongoing COVID-19-related changes.
I'm right there with you.
I'm a school nutrition director passionate about empowering readers like you to make nourishing, high-quality meals available to your students. So in this post, I'm going to answer these questions to help you prepare:
What should school nutrition directors expect to remain the same?

What changes do school nutrition directors face?
What should school nutrition directors expect to remain the same despite COVID-19?
Whether or not we're in a pandemic, schools remain a reliable source of nutrition for students all over the country. Economically disadvantaged students are particularly dependent on school nutrition programs to access the food they need to continue learning and thriving.
School nutrition directors will continue to make this possible by building the infrastructure of their school's nutrition programs while balancing the nutrition budget. But COVID has presented school nutrition directors with opportunities that a technology-assisted approach can fully optimize.
What changes do school nutrition directors face because of COVID-19? 
The USDA has extended universal free meals until the end of this school year. There are several advantages to this extension, including:
Significantly higher reimbursement since all meals are reimbursed at SFSP (free) rates
Increased family interest in learning about school nutrition programs
But there's a catch.
As of today, the USDA universal free meal extension is only in place for this school year. Advocacy for the program is greater than ever before, but making it permanent is far from a guarantee. That's why school nutrition directors should leverage this moment to market their programs and adopt an automated approach to data tracking, analysis, and evaluation.
Now is the time to market school nutrition programs 
School meals are more accessible than ever, which means you have your parents' and caregivers' attention.
You can absolutely leverage this marketing moment by promoting what you're already doing well. But this is also a strategic time to evaluate vulnerabilities in your program and make appropriate adjustments. Designing menus that reflect the needs and desires of students (and monitoring the outcomes of that design) will inevitably lead to higher school meal participation.
School nutrition directors need real-time data to optimize increased funding
More reimbursement likely means the ability to earn more revenue than you've ever had before. So you probably shouldn't rely on your historical budgets for planning. You need real-time analytics to understand your present and prepare for your future.
In addition to adjusting for higher reimbursements, you'll also need to account for the following financial shifts:
Unprecedented changes in expenses
Increased food and supply costs
A fluctuating labor market
Yes, it is possible to manually compare your income and expenses at the district or school level using spreadsheets and calculators (and whatever patience you have left). 
But can you analyze your expenses and revenue to determine your profit margin at the site, district, and menu level? Can you assess that data by menu cycle, daily menu, production record, and item?
Can you do all of that and still have time to manage customer service, safety, personnel, marketing, and all of the other responsibilities you shoulder on a daily basis?     
I'm excited to tell you that yes, you can. You can make data-driven decisions that will actually have an impact on the planning and execution of your menus.
And with MenuLogic K12, you can do it in less time and with less effort than ever before.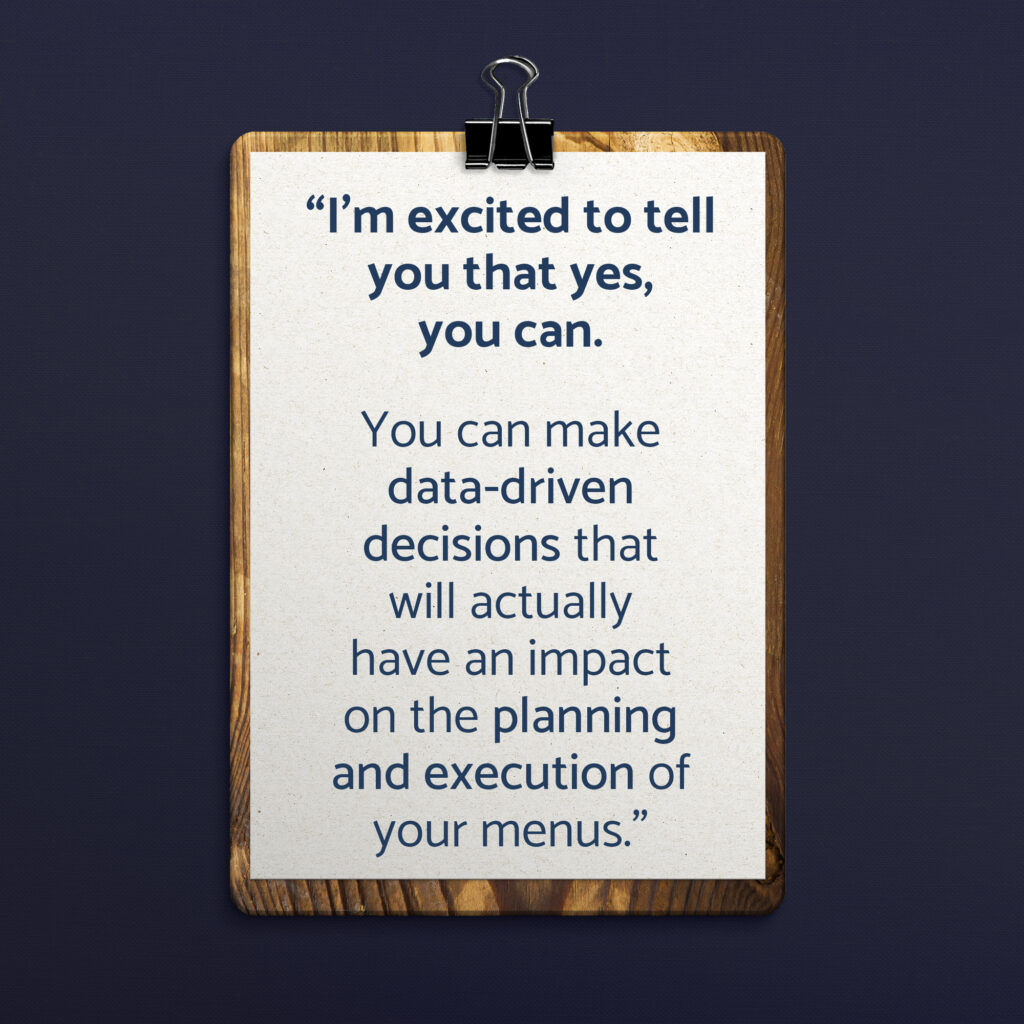 MenuLogic K12 offers school nutrition directors a painless solution to tracking menu data
Understanding your food, supply, and labor expenses is tricky.
It's also most valuable when you have that data available daily (instead of at the end of the month or year).
That's where MenuLogic K12 comes in. MenuLogic K12 provides school nutrition directors with a technology-based approach that:
utilizes sales and production data you are already collecting
makes insights and reports readily available
offers user-friendly menu design tools that incorporate those insights
provides real-time menu performance monitoring
If you're ready to use the power of data to transform your school nutrition program, contact us to schedule a demo today!