It's Time to Transform the Way You Do Business.
Business Intelligence Software designed for school nutrition to analyze and transform data to support better decision-making.
Stop Guessing.
Start Knowing.
Menu design impacts every aspect of a school nutrition operation.  MenuLogic K12 takes the guesswork out of designing menus that are popular, profitable, and efficient.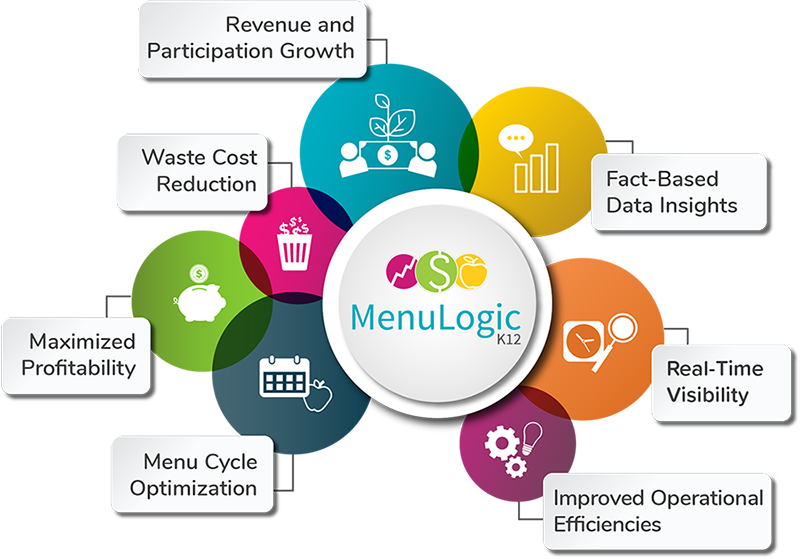 Interoperable Game Changer
Works alongside any existing software to fit into your operation.  Setup is streamlined and customized.  We focus on being the best at what only MenuLogic K12 does for you.
Your Time is Valuable
School nutrition professionals are busy.  We know your time is precious.  MenuLogic K12 is designed to give you the information you need without the hassle you don't.
A Real Solution
Designed to bridge an existing gap:
Powerful analysis that inspires confidence (without fear of financial limitations) to offer innovative, high quality foods that students will love (and buy).
Easy. Worry-Free.
Centrally hosted on the cloud, no local installations.  You only need a web browser and the internet. 
We take care of the rest.
Unprecedented Insights At Your Fingertips
Will the menu mix as designed result in higher or lower overall profitability?
How do we use actual sales and production history to realistically project future needs?
Which food items are driving higher or lower menu cycle day participation?
MenuLogic K12 gives you answers you just can't get from spreadsheets or other software.  Get answers to the questions you have and to those questions you might not have thought to ask before.