School Meals are Worth the Price:  
Delivering Value and Benefits for Families that Far Outweigh the Cost
Why Must Families Pay for Meals Now?
Since 2020 and the start of the COVID-19 pandemic, school districts have been able to offer meals at no charge to every family, regardless of income level. This was due to the fact that the federal government was providing equal and full reimbursement to school districts for every meal served. However, Congress's decision to discontinue universally funded school meals has placed a heavy and all-too-familiar burden on both school districts and families alike.
School districts are mostly funded via state funding, except in the case of school meals, which are federally funded. In order for school meals to be universally funded and free to all parents, Congress must agree to change the reimbursement rates OR states must contribute funding to the cause, as some have decided to.  This is why, as we embark on school year 2022-23, only school districts located in states that are willing to step-up and fund school meals—or schools with high percentages of economically disadvantaged families who already qualify for free meals through the Community Eligibility Provision (CEP)—can afford to provide free school meals for all children.
There is no one group of people who would love to see universally funded meals become a permanent reality than those who are working in school nutrition programs across the country. These people stepped in during the COVID-19 pandemic and fed kids, whether school was closed or not. When meals were free and did not have an attached stigma, students decided to give them a try – and it was a huge success! Participation increased across the country and for maybe the first time – school nutrition operators could focus on food as a priority, not paperwork and payment.
 All this being said – children have to eat while at school. School nutrition program operators are working harder than ever to provide meals that are high quality, in a positive atmosphere, and are a value and benefit to the families in our communities. We understand that household budgets are tight. We want to explain why our programs deserve a place in that budget.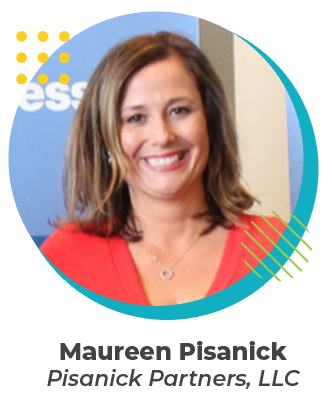 For this blog post, I've invited a guest blogger, fellow School Nutrition guru Maureen Pisanick, with Pisanick Partners! We have a lot in common: we're both Moms, we both love school nutrition, and we both want to see students thrive in school with the nutrition their bodies need to excel.

Let's take a look! 

Comparing Costs of Packed vs. School Meals
According to the USDA's Food Price Outlook for 2022, the steep increase in food costs across the nation isn't going to fall any time soon. Which means preparing your child's lunch-boxes just got more expensive, too. Our infographic below also highlights some of the key differences in cost between preparing a school lunch yourself versus paying the school to provide your child's lunch: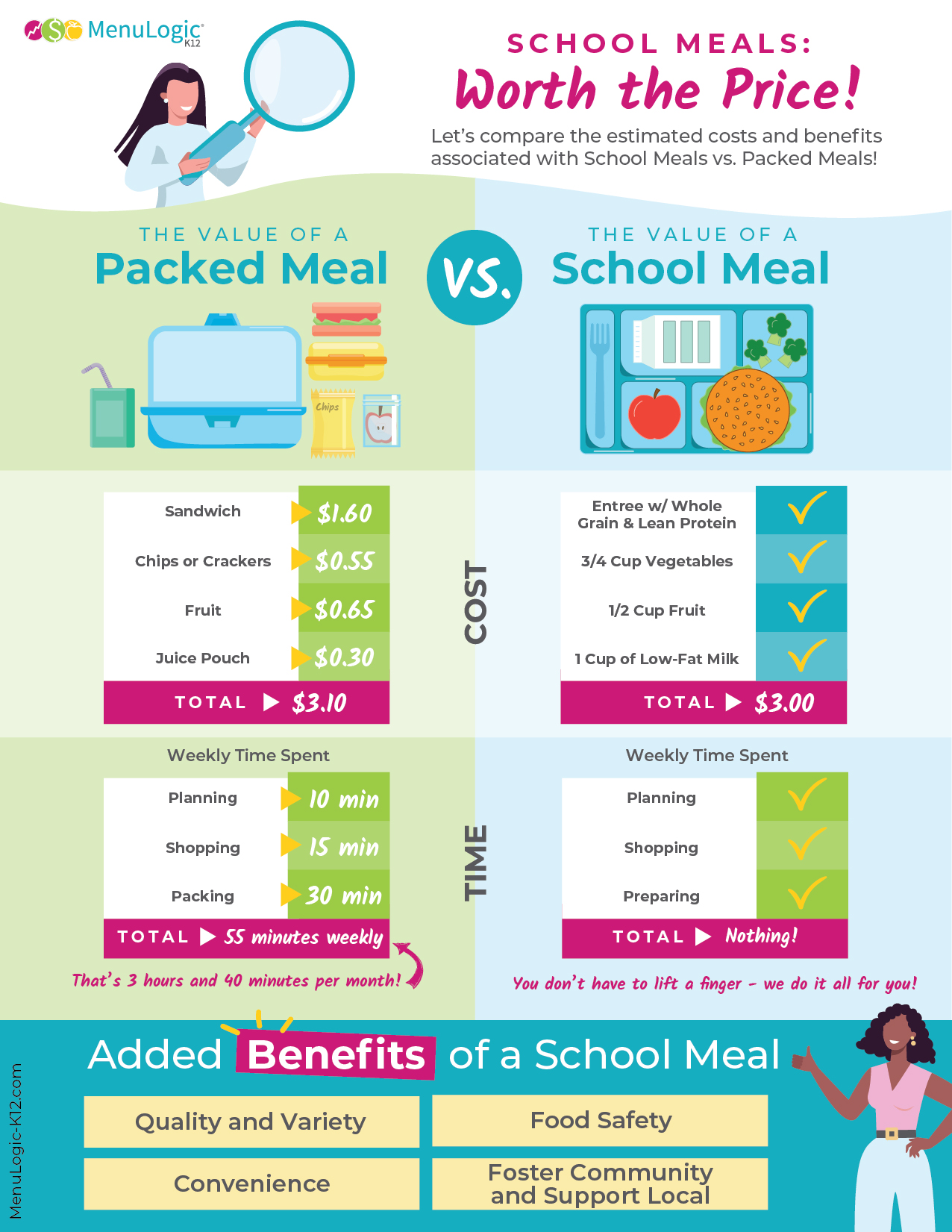 Believe me, as a parent myself, I'm all-too-familiar with the struggle of having to go back to paying for school meals after having not paid for them for two whole years. But my children have to eat while at school and I think that school meals are an investment that I can feel good about.
And while I don't wish to discourage those parents who take pride and pleasure in planning, shopping for, and packaging their child's school meals, that all takes a lot of time AND money. Grocery bills are higher when paying a premium for lunchbox-friendly items that your child may or may not want to eat when they sit down for lunch at school. 
We asked Maureen: 
Do you think school meals are a value?
"Value is a big priority, and also why we buy school meals. To pack a complete source of balanced protein, grain, veggie, fruit, and milk is next to impossible at the discounted price that schools offer. Grocery bills are escalating, and when I do the math, I save money every day, and with a full-balanced menu for my daughter to fuel her learning."

Provide Exposure to Hot, Fresh, Balanced Meals
The quality of our kids' school meals is probably better than what many perceive it to be. Unlike for-profit restaurants, school nutrition programs do not have marketing teams providing virtual tours to the cafeteria at your child's school – although we wish we did!
 School meal programs are regulated to ensure that every meal served meets requirements for a balanced meal and include protein, whole grains, fruits, vegetables, and milk.  
 Despite all the challenges school districts face, studies have shown that most lunchbox meals made at home are not nearly as nutritious as what's already on your school's menu. Moreover, purchasing school meals not only provides consistent and nutritious meals for your child, it helps your school, too. (We will cover this in Benefit #5 below)
 At my house, my children buy lunch every single day, regardless of what the menu says. They can be picky eaters at home, but somehow they come back from school excited about a food they ate that they might have turned their nose up to the night before. Even if the school meal isn't a homerun in their mind every day, they at least tried something new or different than what I would have otherwise provided in the lunchbox.  That's a win! 
We asked Maureen: 
What nutrition benefits do you see from your child's school meals?
"We really love to cook and eat as a family. My daughter has come to value 'making the salad' like you would at a salad bar, with choices of veggies and fruits for our dinners. She helps with the washing and chopping, and is excited to 'set up the rainbow' of colors and variety. I love that her school focuses on a healthy produce bar that teaches students that they can choose from a wide variety…of fresh produce with their meals. We also purchase local foods through a community-shared agriculture program for our family. My daughter gets super excited to see 'local' items, especially apples, in her school lunch lines.
 Simply put, hungry kiddos can't learn—my daughter is no exception. She tends to get 'hangry' when she has dips in blood sugar, which is not optimal for her mental and social wellbeing. I feel, fueling up with school meals helps curb these dips in blood sugar and optimizes her brain for engaging, learning, and growing as a student. I also love the autonomy she has developed in owning her own plate and the choices she makes to fuel herself. She realizes that whole, fresh foods and a balance of protein and carbohydrates provide her with the needed energy to help her be successful as a student. I love that the cafeteria is an extension of the classroom, and she is learning ways to make good choices for herself."

School Meals Can Save Families Valuable Time
Every family is different. Some parents work outside the home, some work for employers but from home, some parents work for the family, and some are single-parent households. One thing that I think all families have in common and can relate to is that as parents, our time is probably our most valuable asset to our children. It takes effort, care and planning to be present for our kids – and they really need that. As a parent myself, I understand that struggle and can certainly relate.  Any service (such as school meal programs) that I can utilize to save me valuable minutes that could be otherwise spent with my children are prioritized in our family budget.
We asked Maureen: 
How valuable is the convenience of school meals to your family?
"Time is a hot commodity in our house, especially in the morning when we are all getting ready for school and work. Evening/prep-ahead time can be used to help with homework, dinner duty, and, of course, some downtime for me to catch my breath after all the extracurricular activities and bedtime routine[s]."

Keeping Cold Foods Cold (enough) and Hot Foods Hot (enough)
For those of us working in school nutrition, we understand the in's and out's of food safety.  That's our #1 priority – to make sure the food that we serve is safe for our students to enjoy. This is not necessarily an easy feat. It takes a great deal of training and knowledge to create systems that provide this safe environment.   For anyone who has worked in a restaurant or other food service establishment, you've likely had to learn these same concepts. So how does this apply to lunches packed from home? Time and temperature control is probably the most important aspect of keeping food safe for consumption. The most simple rule to understand is that potentially hazardous foods (those that are not intended to be shelf stable) must not be in the temperature danger zone (40 degrees F – 140 degrees F) for too long a period of time. Food at this temperature for too long can harbor dangerous bacteria or pathogen growth. It can be very difficult to avoid this zone within the parameters families have to work with: packing lunches that are not refrigerated for many hours prior to lunch.
We asked Maureen: 
Is food safety a priority for you?
"Safety is also paramount. It is hard to pack a variety of foods in a lunchbox and feel like the temperatures are maintained to a good standard of health. Keeping cold foods cold and hot foods hot is a priority of school meals—in order to keep food-borne illnesses at bay while maintaining the quality of foods available."

School Meal Programs Depend on Your Support
The Food Research and Action Center (FRAC) found that school lunch programs not only reduce the risk of food insecurity—especially among low-income families, and children who are homeless or in foster care—they also help to improve the school's overall learning environment for all students, regardless of income level. 
Over the past two years, when schools were able to provide free meals for every child, more families participated in their school's meal programs. This means that, for two whole years, socioeconomic differences between classmates were not constantly thought or talked about. Kids could just be kids and enjoy a nice, hot, nutritious meal with their friends; they could pay closer attention in class, and finally experience school the way it's meant to be experienced—hunger-free.
The positive impact of school lunch programs can also be felt well-beyond school walls. Per the USDA's Foods in Schools program, school meals are 100% sourced from American farms. 
We certainly do not want to forget one other very important aspect: school nutrition programs create local jobs.  In many communities across the U.S., the school district is one of the  largest employers. In order to pay reasonable and competitive wages, we rely on selling meals to generate the revenue necessary to do so.
Ready to Give School Meals a Try?
We encourage you to check out your local school district's website or social media and see what's being offered. Ask your children whether they are interested in eating at school and if they are, give it a try for a few days in a row!
If you have questions about the types of food or how it is offered, contact your district's Food Service Director or your local school's Cafeteria Manager. They are truly invested in serving families and students just like yours.
Every child deserves an outstanding meal at school each day, and we at MenuLogic K12 are here to help make that happen. Driven by our desire to help school nutrition programs provide high-quality meals to children, we provide support in the form of operational and financial data-driven decision-making. We help school districts by making it easier for them to understand which foods on a menu their students love and optimize what is offered based on that information.
We believe in supporting school nutrition programs and we hope that you've learned enough from this article to continue to support yours or to give yours a try!

Are you a School Nutrition Operator?
We want to help you get the word out to your district's families about the benefits of your meal programs and why they are worth the price!   Please feel free to use any of the verbiage in this blog post in your own communications.   We have also created free resources you can download here! Interested in how MenuLogic K12 or Pisanick Partners can strengthen your school nutrition program? We'd love to connect with you. Contact us today!